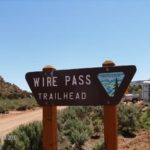 If you are a Paria Canyon or Buckskin Gulch backpacker, we can help you with a shuttle. We offer reliable and prompt service with the most competitive prices.
We offer service from the Lee's Ferry, Whitehouse, Wire Pass and Buckskin Gulch Trailheads.
Dogs are welcome, and ride for free.
Grand Staircase Discovery Tours Shuttle Service
Prices:
Lee's Ferry to Whitehouse          $200.00
Lee's Ferry to Wire Pass              $250.00
Lee's Ferry to Buckskin Gulch    $250.00
Whitehouse to Wire Pass            $150.00
 **Price is for a group of up to 4 people. We can shuttle larger groups–additional charges apply. Please contact us for details.
To check for availability and reservations
 email us at [email protected]
Or call 928-614-4099