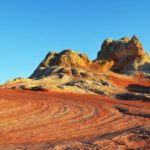 Located deep in the heart of the Vermilion Cliffs National Monument, this is an absolutely superb photographic destination. The twisting, swirling, color-blasted navajo sandstone is truly a sight to behold.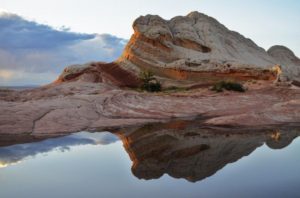 The hike from the parking area to the rocks is only 0.2 mile, on a wide sandy path. From there it's a matter of wandering through and over the rock formations without established routes.  We also offer overnight sunset/sunrise camping tours of White Pocket where we provide absolutely everything for a comfortable and unforgettable photography  adventure.  All you need to bring is your camera!
No permit is required for White Pocket.

Accessible only by 4 wheel drive, so leave the driving to us, while you enjoy the ride in our comfortable 4X4.
Tour time: about 8 hours (Day); about 24 hours (Overnight)
Departure times: Flexible–day tours, sunset tours, and overnight tours are available
Sandwiches, snacks, cold drinks and bottle water are included

Day Tour cost: $200.00 per person
Overnight Sunset/Sunrise Camping Tour cost: $350.00 per person
 Private tours available.
Call us anytime with questions or to book a tour: